You're Invited To What's Blooming on Harrison Street Art Festival (May 25-26)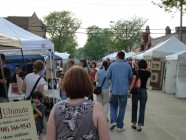 COME ONE, COME ALL!
Friday, May 25th from 6-10 p.m. to Saturday, May 26th 10:00 a.m. – 8:00 p.m.
Friday, we kick off the weekend with special events planned at the galleries.  On Saturday, we will be closing off a portion of Harrison street, allowing  artists and vendors to set up their booths in a localized space. As always, we will have fun, fantastic and free live entertainment all day long, with special activities scheduled throughout the day.
What's in store?
An art show featuring over 50 artists.  Entertainers/musicians will be performing all day.  Delicious food from Oak Park & Forest Park eateries.  A beekeeper demonstrates in Bee World.  The Wizard of Oz will be mingling with the crowd.
This year's What's Blooming also includes an exhibition of Highland Park's hand-painted butterflies.  These butterflies are over 3 feet wide and will be on display in the parkway.
The Oak Park Arts District is located on Harrison Street between Ridgeland and Austin Avenue in Oak Park, IL.
See you there!
P.S. Many thanks to our SPONSORS: