Events
District Wide Events
What's Blooming on Harrison  
May 17, 6 -10pm & May 18, 10am – 8pm
Building on the success of its autumn event, Art on Harrison, the Oak Park Arts District launched "What's Blooming on Harrison"  in 1999.  Over the years this family-oriented May event has highlighted the District through artist demonstrations, live music and dance performances  and an art fair featuring selected guest artists and local crafts people.  This year's theme is "SPRING."  For a schedule of events on Friday night,  please go to our Third Friday Gallery Walk  page.  Click here for What's Blooming Events on Saturday.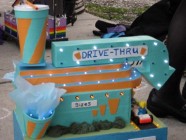 Your family can be a part of the art by designing a Petite Parade Float! Petite Parade floats take their cue from the generations-old, New Orleans grade-school tradition of decorating shoeboxes to look like Mardi Gras floats. Think diorama but on top of the box, not inside.  Your float theme must be family friendly.  The base of the float should be roughly the size of a shoebox and you must have someone available to pull your float through the parade scheduled to start at 3:00pm Saturday outside Art Gecko, 21 Harrison Street.  Questions?  Please contact lisa@artgeckoltd.com or laurel@oakparkartsdistrict.com.
The Oak Park Arts District is pleased to announce this year's participating artists:
Susan A.  Lovelace
Pat Koko of RBC Jewelry Design
Cecilia Monteverde of CEOS Jewelry
Liliana Cwaicka of Wild Lilac
Ward P. Siegler
Susan Lechner of Sunshine is Happiness
Martin Meyer of F & M Turning
Susan Clarke and Jean Clarke of Twisted Sisters
Drew Bryant of Home Creative Designs
Iwona Narolewska of Atira Design
Noreen Gallivan of Elegance by Design
Justin Gershenson-Gates of Mechanical Mind
Denise Handwerker of Feltwerker
Liz Quincy of Fat Blossom Farm
Jamie McClellan of Alouette Artisan Jewelry
Kris Cromwell
Amy Struckmeyer of Form*work Design
Shannon Glass of Sugarface
David La Greca and Waheedi Rossi
Susan Wisniewski
Chris Jensen of C3 Designs
Lisa Nordstrom and Cristina Beller
Our Music and Dance LineUps!  Taking the Lyman/Harrison Stage on Saturday…
Bruce Foster     11am
The Grasso Family     12:45pm
DJ Earl     2:45pm
And appearing on the Taylor/Harrison Stage…
Harrison Street Ukulele Players     12:15pm
Outloud African Drummers from The Steckman School of Music     1:15pm
Vince Walker Band     2:30pm
Westside Klezmer All-Stars     3:45pm
TMac and Charles Torpe     4:15pm
Kumba Kids     6:15pm
Mike Casey     6:45pm
The General Patton     7:45pm
The Oak Park Arts District would like to thank the sponsors of this year's What's Blooming on Harrison:
House of Heat     Advanced Physical Medicine     Maya Del Sol     Pet Vets
R. Doran, Elite Accounting Services     Stillwater Creative Group     The Wednesday Journal
The APPLICATION AND FEE DEADLINE was March 22, 2013.   Please use the applications below as a general guideline for 2014.  Payment accepted by PayPal or Check.  QUESTIONS?  CONTACT:  info@oakparkartsdistrict.com
Artist Applicants Please Note:  Only original work in design and concept is allowed.  No imports or works made with the use of commercial kits, molds, patterns, plans, or prefabricated forms will be accepted.