News & Updates
For registration click HERE.  Check out our new Intensive and Apprenticeship Camps scheduled for July as well as our annual Two-Week Camps in June and August!  Summer Fun for 2013 coming soon!!!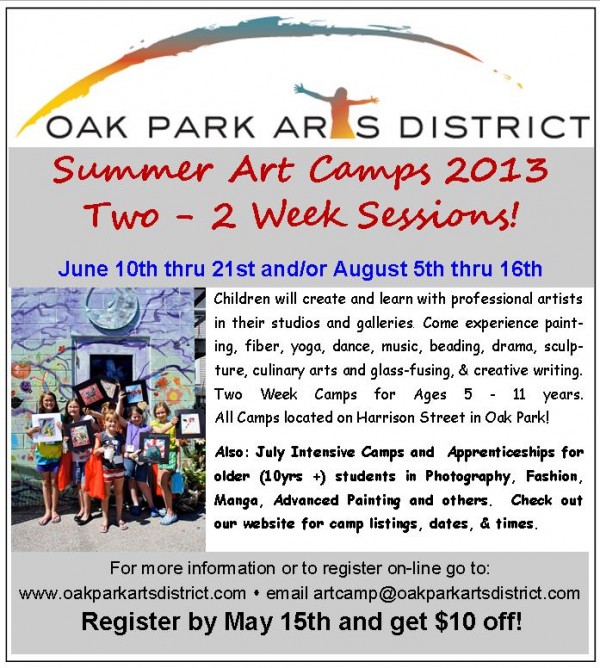 ART WALKS 2013: Group Tours Designed Around Your Interests  Get the inside scoop on what's happening in the Oak Park Arts District by attending our Saturday morning guided art tours highlighting local galleries, artisans and working studios. Tours are free and open to the public – anyone is welcome to participate – no knowledge of art is required. Whether you are an art lover or just getting interested, artist Janice Elkins, owner of Gallery Pink-Elkins Studio will keep the conversation flowing at the right level.
The next walk is scheduled for May 25th.  Participating artists are Terry Mueller of Creative Changes and Stephen Smith of Flavor City Studios.  Three Queens Organic, a new retailer and gallery on the block, will also be involved.
Space is limited and a reservation is needed to attend. The minimum number per tour is 3 people, maximum of 15. Let us know what you feel passionate about and we can also design an exclusive walk just for you and your companions. Contact  Gallery Pink via email or call (708)524-2231 to reserve your spot.  Walks are always scheduled from 11:00am – 12:00pm, the fourth Saturday of each month and begin at Gallery Pink, 149 Harrison.
Check out our 2013 Desk Top Calendar.  Each month features a different work of art created by the children in the Arts District's Art Camp Programs.  It comes in a 4 inch x 4 inch plastic display case.  Proceeds from your $15 donation will go toward our Art Camp Scholarship Fund!